Meet Dr. Edward Bates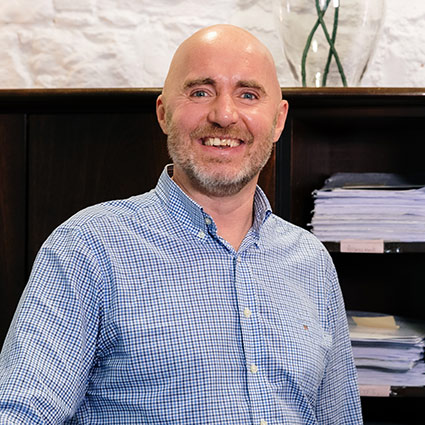 Dr. Ed didn't always have his sights set on becoming a chiropractor. He first attended university in the UK to earn a degree in building engineering. "I realized pretty soon into that career that it wasn't where my future lay."
What changed Dr. Ed's career course was learning more about chiropractic from a distant relative (a chiropractor in the city where he went to university). "I saw how he loved his job and decided to attend chiropractic college."
Education & Professional Development
Dr. Ed earned his degree from Anglo-European College of Chiropractic in Bournemouth, in 1995. Dr. Ed served as the European Regional Director for Activator Methods International and is a qualified Activator instructor. He's also advanced certified in the Zone Technique and is a member of the Chiropractic Association of Ireland.
Finding Fulfillment Helping Others
"From the second I started working as a chiropractor, I knew I had made the right decision." For him, chiropractic fulfilled everything he was looking for in a career.
Dr. Ed finds it so rewarding to be in a position to make a positive impact on the lives of
his patients
. He is also very interested in health and wellness and is continually studying and learning.
Taking the Time to Listen
Have you ever felt not listened to or validated at other healthcare practices? When you meet with Dr. Ed, you'll notice that he's caring and a good listener. He's also enthusiastic and confident, knowing that he can provide natural care that gets excellent results for his patients.
Outside the Practice
When he's not caring for patients' health and spines, Dr. Ed enjoys spending time with his wife and four children-two girls and two boys. His children are regularly adjusted, and are all very active.
Dr. Ed also enjoys staying fit and has participated in multiple triathlons, including two grueling IRONMAN competitions in 2011 and 2016. As a husband and father, Dr. Ed is keenly aware of the importance of maintaining his health. "Without health, you don't have anything."
Book an Appointment
Contact us to book your appointment today with Kilworth chiropractor Dr. Ed! We look forward to helping you achieve a healthier version of you.
---
Dr. Edward Bates | 025 27436